What is Draw the Line?
Sexual violence is a reality in Ontario. It is present in every city and community across the province and impacts the lives of our friends, family members and colleagues. Sexual violence can and must be eradicated.
Since the early 1970s, community-based, grassroots organizations have been working tirelessly to stamp out sexual violence from our homes and communities. They have been educating Ontarians on the pervasiveness of sexual violence and ways for them to create change.
To end sexual violence in Ontario, we must not simply react to it but prevent it.
With this in mind, Action ontarienne contre la violence faite aux femmes (AOcVF) and the Ontario Coalition of Rape Crisis Centres (OCRCC) produced a dynamic sexual violence prevention campaign. In developing the campaign, they consulted extensively with service providers, grassroots organizations, advocates and survivors. The intent was to create a campaign that represents the ethnic, linguistic, cultural, sexual, economic, and geographic diversity of Ontario.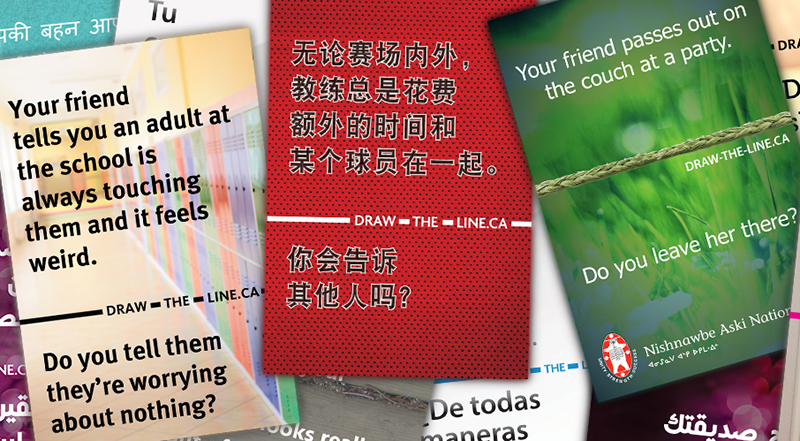 The result?
Draw-The-Line.ca
'Draw The Line' is an interactive campaign that aims to engage Ontarians in a dialogue about sexual violence. The campaign challenges common myths about sexual violence and equips bystanders with information on how to intervene safely and effectively.
It is our hope that 'Draw the Line' will educate Ontarians on how to spot sexual violence and empower them to make a difference.
One in three Canadian women and one in two 2SLGBTQIA+ people will experience some form of sexual violence in their lifetime. It is time for Ontario to draw the line. We must work together to make our communities safer.
To end sexual violence in Ontario, we must not simply react to it but prevent it through bystander intervention.